I offer pruning for small trees, fruit trees, ornamental trees, and shrubs such as Roses, Privets, and Figs. You can find more details on my Services page. My goal is to prune to arboricultural standards while meeting your requirements as closely as possible. So I prune for the health of the tree, with proper cuts, and at the proper times. This means I don't top Crapemyrtles or prune Azaleas in the fall.
Here is a 'Red Delicious' Apple Tree (Malus domestica) I pruned in March 2015. This was right before bud break with pictures just two weeks later as the buds began to break.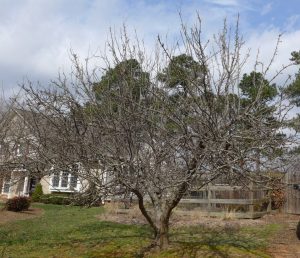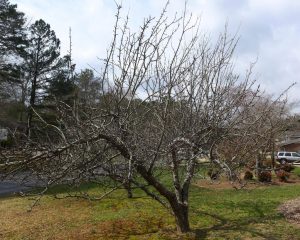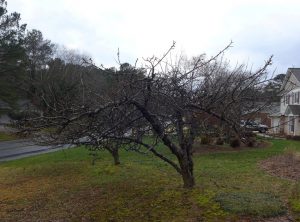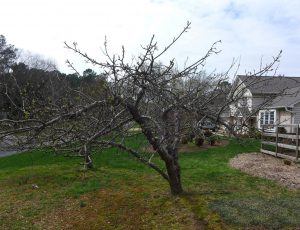 This tree is at least 35 years old and in fairly good condition with only one major defect in the trunk and strong leaf out each year. The tree hadn't been pruned in a few years, so there was a lot of extra growth.
Why not prune more? The general rule of thumb is no more than 1/4 of the canopy in a year (1/3 for shrubs). Also, the tree is older and is in fairly good, but not great condition. Pruning doesn't make a tree grow larger, but young trees can take a lot pruning because they don't have a lot of mass to maintain. Very mature trees often have a precarious energy balance where pruning just a small portion of the canopy causes the tree to go into decline.
The tree produced few, if any, blooms in 2015. It was a heavy pruning and I knocked a lot of the buds off working in the tree to gain access for all the cuts. Had the pruning been done in January, perhaps the buds would have been in a firmer state. The tree produced great leaves, though, and in 2016 had a good crop of fruit.
Unfortunately, it's the last of the three apple trees originally planted in the location and pollination is more difficult now. Here is an article on Apple Tree pollination.
For more information on pruning, see the Trees Are Good website.