A customer contacted me about a Mulberry that had fallen down due to the heavy rains received in the previous days. In one of the established neighborhoods in the North Hills area of Raleigh, the Mulberry had been growing for a long time and providing privacy along a rear fence. And had it ever!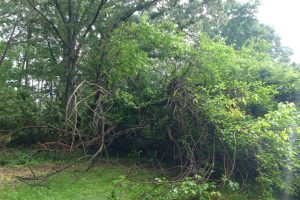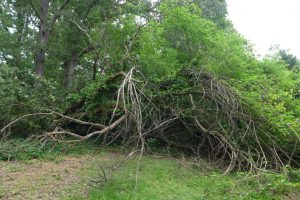 Mulberries are tremendous growers that put up multiple trunks and produce a lot of wood. Unlike a Bradford Pear, the wood is quite strong and so the Mulberry grows easily to an unbalanced shape as it seeks light. This tree was probably under 40 feet tall when standing, but nearly as wide, and was close to 2 feet in diameter at waist height.
The thing with storm fallen trees is that they are over, but they are not down. So the work is nearly as much, and in many cases more, than cutting a tree down from a standing position. The tree was pieced down carefully from the tips, working back, making sure to be careful of the shifting and rotating weight that is released from storm fallen wood.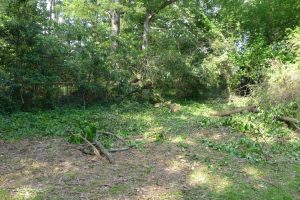 In the end, the trunk was cut back close to the root mound and left as shown per the customer's request. It measured over 24 inches at this point. You can also see the yellow wood and white sap that are hallmarks of Mulberry.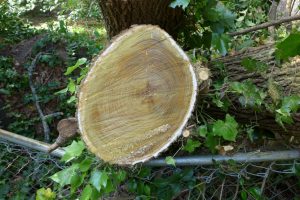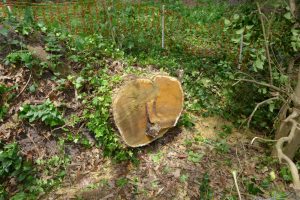 Disposal went well, the location wasn't close to the street, but the land sloped down – a welcome relief. Because I don't use heavy equipment and I work carefully, the yard was left in great condition despite moving a couple tons of tree across it.