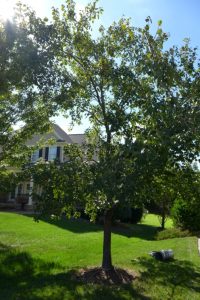 Late last year a man contacted me through the website with pictures of a maple tree in his front yard. The problems weren't obvious looking at the pictures, but the man indicated the tree didn't look right. In person, it became clear that the tree had a poor form given relatively good conditions as far as room and light in the nearby area. The tree had a large branch coming out across the driveway that was growing more quickly than the main trunk. This tree would develop into an ugly, lopsided tree with time.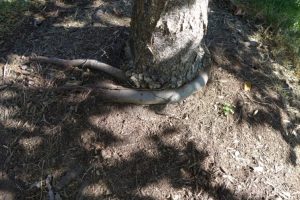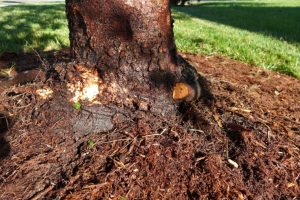 Looking closely at the root flare, where the trunk meets the ground, I found a girdling root that if not causing problems then, would soon cause problems for a tree that didn't need any more of them. The root wasn't too large compared to the trunk, so I decided it was best to cut it away.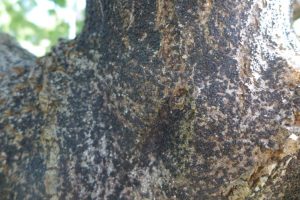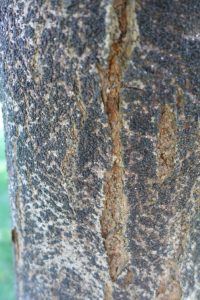 One other observation stood out during the close inspection – the trunk of the maple was nearly black. Black because nearly the entire maple was covered densely in Gloomy Scale, Melanaspis tenebricosa. Gloomy scale is a sucking, armored insect that takes nutrients from the tree. With this much on the tree, it was no suprise to see the sparse canopy.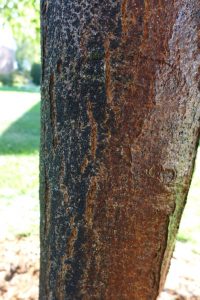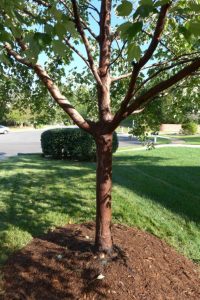 After some research, I decided on a plan of removing as many scale as possible on the lower portion of the maple, treating with a horticultural oil in the late winter on the thinner upper canopy, and giving the maple the best possible growing conditions by extending out the mulch circle to reduce competition with the lawn.